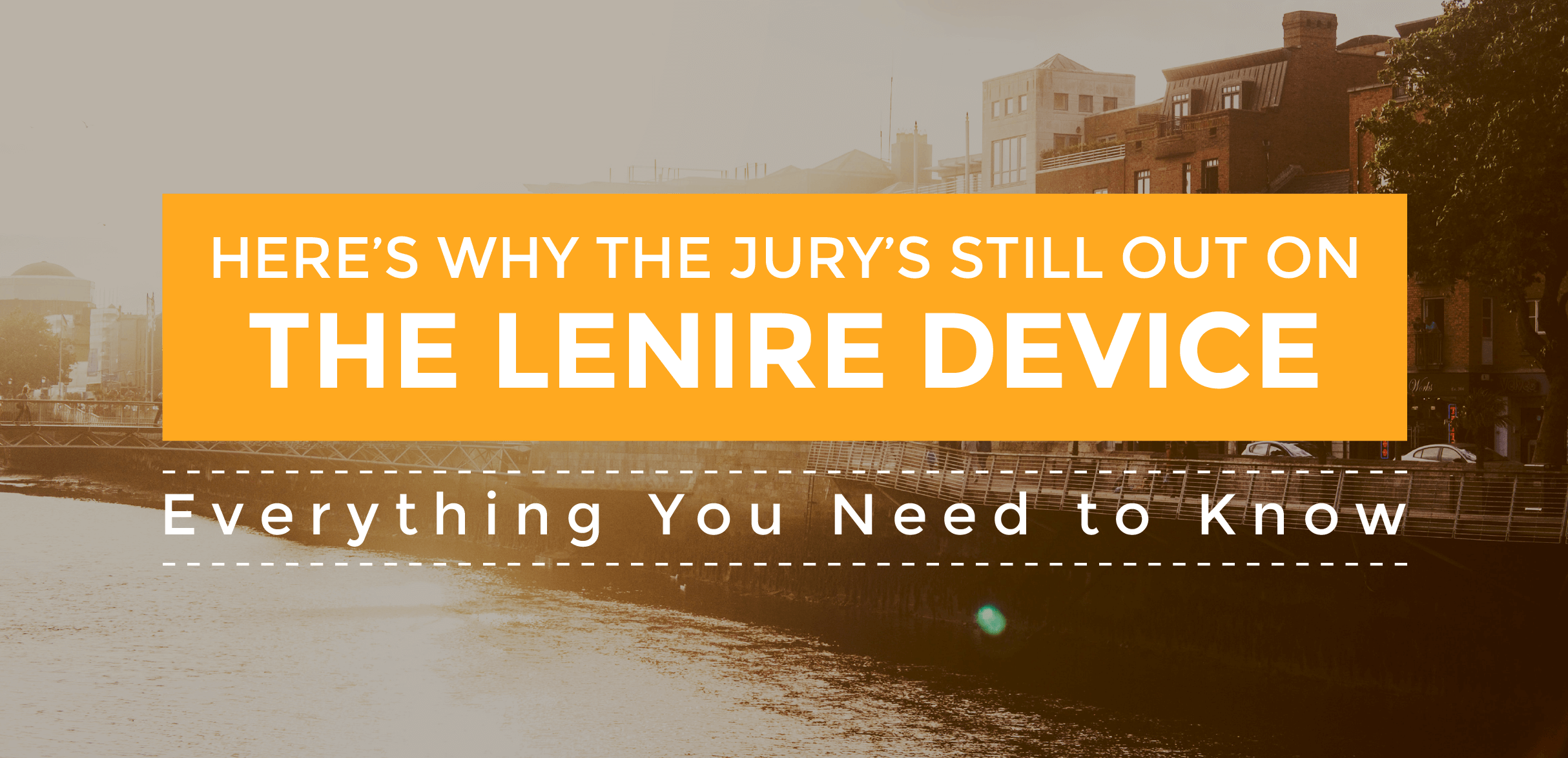 Here's Why the Jury's Still Out on Lenire
By Hazel Goedhart, Director of Tinnitus Hub
You're suffering from tinnitus and you've heard of this new treatment called Lenire. You're wondering if it might be right for you. You might have found the Lenire thread on our support forum Tinnitus Talk but gotten discouraged at the thought of reading 7.000+ posts. You just want a quick, easy and, most importantly, independent assessment of this device. That's why we compiled this article for you.
---
We cover:
---
What Is Lenire?
The tinnitus treatment device called Lenire® was launched by Neuromod Devices in June 2019. It has been the only serious attempt at a new tinnitus treatment of the past few years – ignoring of course the plethora of obvious scam products hitting the market every day.
Lenire is based on "bimodal neuromodulation" technology, which means stimulating two neural pathways simultaneously. In the case of Lenire, we are talking about sound stimulation through headphones at the same time as the trigeminal nerve being stimulated through electrical pulses to the tongue.
---
How to Get Lenire?
Lenire is only available by recommendation from an appropriately qualified healthcare professional. The device is currently offered through clinics in Ireland, Germany and Belgium. Whereas several visits to one of the clinics were previously required, due to the impact of COVID-19, Neuromod has been offering remote appointments for residents of Ireland and other EU countries since June 2020 from its clinic in Dublin, thus removing the need to travel.
Neuromod applies a pre-treatment screening, so beware that you may be told during/after your first appointment that you are not eligible (for instance due to severe hearing loss).
The device is priced at a steep EUR 2.500 – which is currently not covered or reimbursed by any public healthcare schemes.
---
How Was Lenire Tested?
The tinnitus community has long awaited the release of clinical trial data to support Neuromod's claims about Lenire's benefits. A group of researchers published their analysis of the company's TENT-A1 trial in Science Translational Medicine (STM) – a highly regarded and peer-reviewed academic journal – earlier this month. You can find the article here.
It's clear from the STM article, and the previously published trial protocol, that we are dealing with a clinical trial where the methodology is clearly described, the sample size is adequately large, outcomes are reported in detail, and long-term follow-up of participants was conducted. Such rigor has been sorely lacking in many tinnitus studies for the past few decades; hence, we applaud Neuromod for its diligence in this regard. However, we also identified some weaknesses in study design and reporting, which we will discuss below.
---
Does Lenire Work?
This is of course the million dollar question. Neuromod summarizes the results of their trial as follows: "86% of treatment-compliant participants experienced an improvement in tinnitus symptoms after 12 weeks of treatment." This sounds promising at face value. But we have some caveats to the clinical trial results as reported in the STM article:
86% refers to participants that showed ANY improvement, no matter how little. It has been demonstrated that natural improvement occurs for most people with tinnitus over time, so some of those 86% might have improved anyway without the device. See this study for instance, which attempts to quantify the degree of natural improvement for tinnitus.
Furthermore, an improvement of a few points on the Tinnitus Functional Index (TFI) or Tinnitus Handicap Inventory (THI) scale is not very meaningful. One could expect to see at least 50% "improvers" just from small variations in before/after questionnaire responses, unrelated to any kind of treatment. For both the TFI and THI scales 'clinically significant' improvement thresholds have been defined – reported here for TFI and here for THI. Although Neuromod has previously spoken of the minimally clinical important difference (MCID) outcomes of their clinical trials, for instance in the Tinnitus Talk Podcast, the STM article unfortunately does not report what percentage of participants experienced such a meaningful improvement.
The article also does not report what types of patients were more likely to benefit. Is tinnitus duration a factor? Is hyperacusis a factor? (Neuromod has previously stated that it is.) These questions remain unanswered until further analysis is done on the clinical trial data, which apparently is planned for a future paper.
Lack of placebo control: It is well-documented and proven many times over that ANY intervention (no matter how useless) will lead to SOME improvement simply because of the participant's expectations or because they are given personal attention by an authority figure. In this study, however, no placebo group was used to correct for that effect. Neuromod CEO Ross O'Neill has previously stated in the Tinnitus Talk Podcast that designing a placebo for a bimodal stimulation treatment is challenging. However, Dr. Susan Shore, who is also working on a bimodal stimulation treatment, has designed a placebo version of her treatment, as described in this paper, which she also talks about in our video interview with her.
The STM article does not report on whether Lenire resulted in a reduction of tinnitus loudness. As tinnitus expert Dr. Richard Tyler stated: "You have tinnitus, and you have your reactions to tinnitus. Those are two different things. If you're going to try and decrease the tinnitus, then you should be measuring the tinnitus." Neuromod has previously spoken of their efforts to measure loudness with Minimum Masking Levels (MML) but those results have not (yet) been reported.
That might seem like a lot of criticism, considering that there are other tinnitus treatments on the market with much poorer supporting evidence. That is true, and trust me, we would love to conduct comprehensive reviews of all those treatments (and maybe we will). But as a small volunteer organization, we have to focus on what is currently new or generating interest. What is more, we are confident that the last word has not been spoken on bimodal stimulation. More data will come out, new players will join, treatments will be tweaked. So, we certainly hold out hope, but for now would not consider Lenire a breakthrough.
---
Is There Any Independent Study on Lenire?
Tinnitus Hub has conducted its own, independent, patient-led study on Lenire.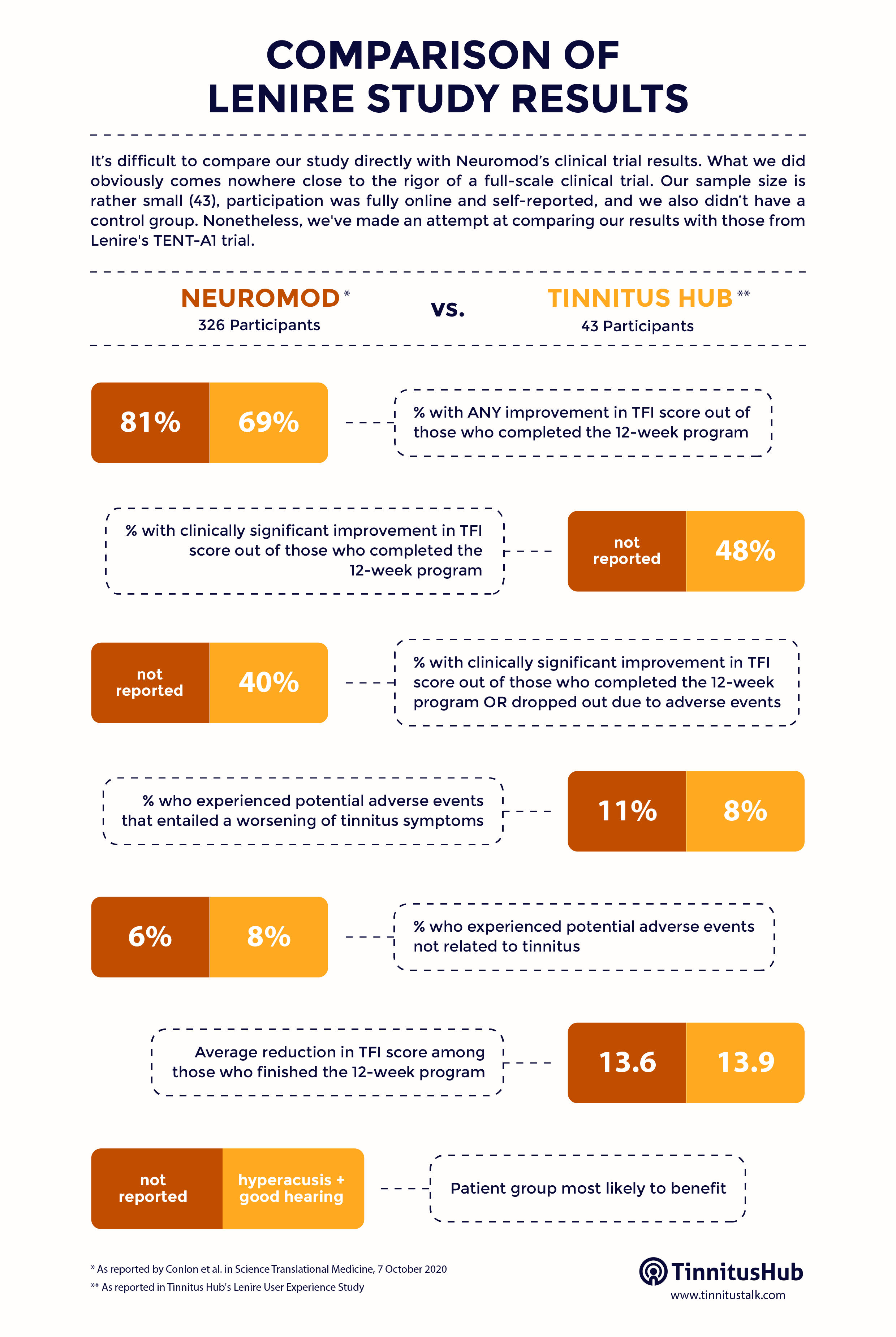 Please check here (PDF) for more details on the calculations behind this table.
---
Should You Buy Lenire?
There is no straightforward answer to that question. In our opinion – based on the currently available evidence – Lenire is not proven to be meaningfully more effective than (a combination of) existing treatment options such as sound therapy, hearing aids and counselling. We await and welcome more evidence on the efficacy of the device, and in fact Neuromod has assured us that more evidence is coming.
Nevertheless, it is clear that Lenire certainly might benefit some tinnitus patients; so, you will have to decide for yourself whether it could be right for you. Consider the following:
If you are hoping to be cured from your tinnitus, beware that this is very unlikely to happen with Lenire, but you might experience relief from your tinnitus in terms of distress (and maybe also loudness, but evidence on this is not yet published).
If you suffer from hyperacusis and you have no (perceivable) hearing loss, you are more likely to benefit* from Lenire, according to our study.
Ask yourself whether the potential benefits outweigh the financial costs and potential risks? Only you can make this judgement for yourself, based on your personal situation, the evidence presented so far, and the advice of your doctor.
If you decide to give Lenire a try, don't forget to tell the rest of us how it worked for you!
* Please note that we are talking about potential benefits regarding your tinnitus symptoms; there is no evidence that Lenire improves hyperacusis in any way.
---
Help Us Continue to Inform You
This blog and the additional resources below are the result of literally thousands of hours of volunteer labor conducted by people who suffer from tinnitus, just like yourself. Please help us to continue to deliver the independent resources you seek, by making a donation of any size.


---
Learn More About Lenire
What do Lenire users say?
Tinnitus Hub's Independent User Experience Study – June 2020
Our interviews with Neuromod's CEO Ross O'Neill